There isn't anything on the market like this
100% Waterproof, Breathable, Soft, Stretchy & Fits in Your Purse
We are not a swim cap. We're SO MUCH MORE! AQUA Headwear allows you to look FAB and protects your hair from splashes at the beach or pool, in the rain & humidity, in the shower, at concerts or festivals, and any other time you don't want to get your hair wet, look stylish and feel comfortable.
NO MORE BAD HAIR DAYS
You spend A LOT of time and money on your hair. Let us protect your investment.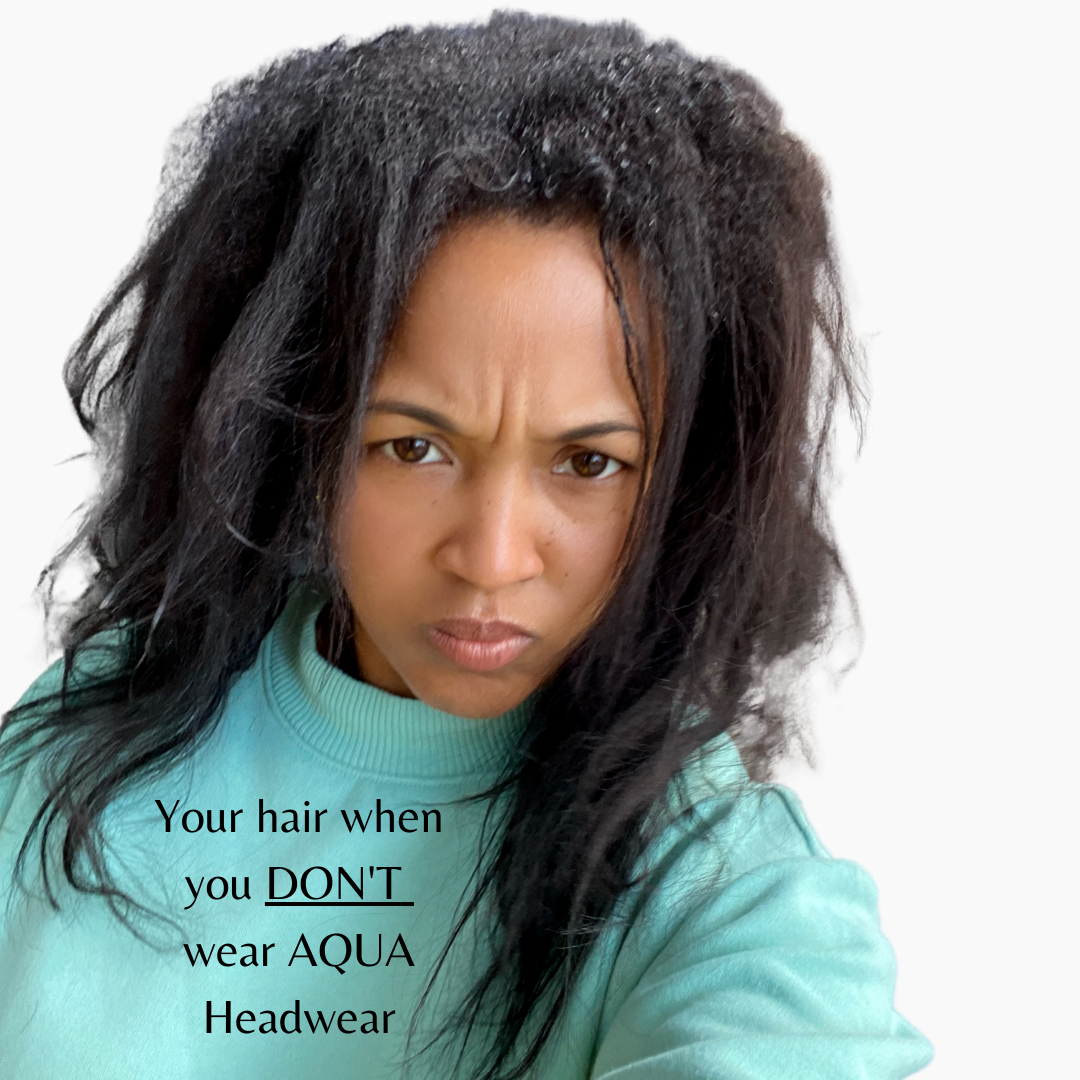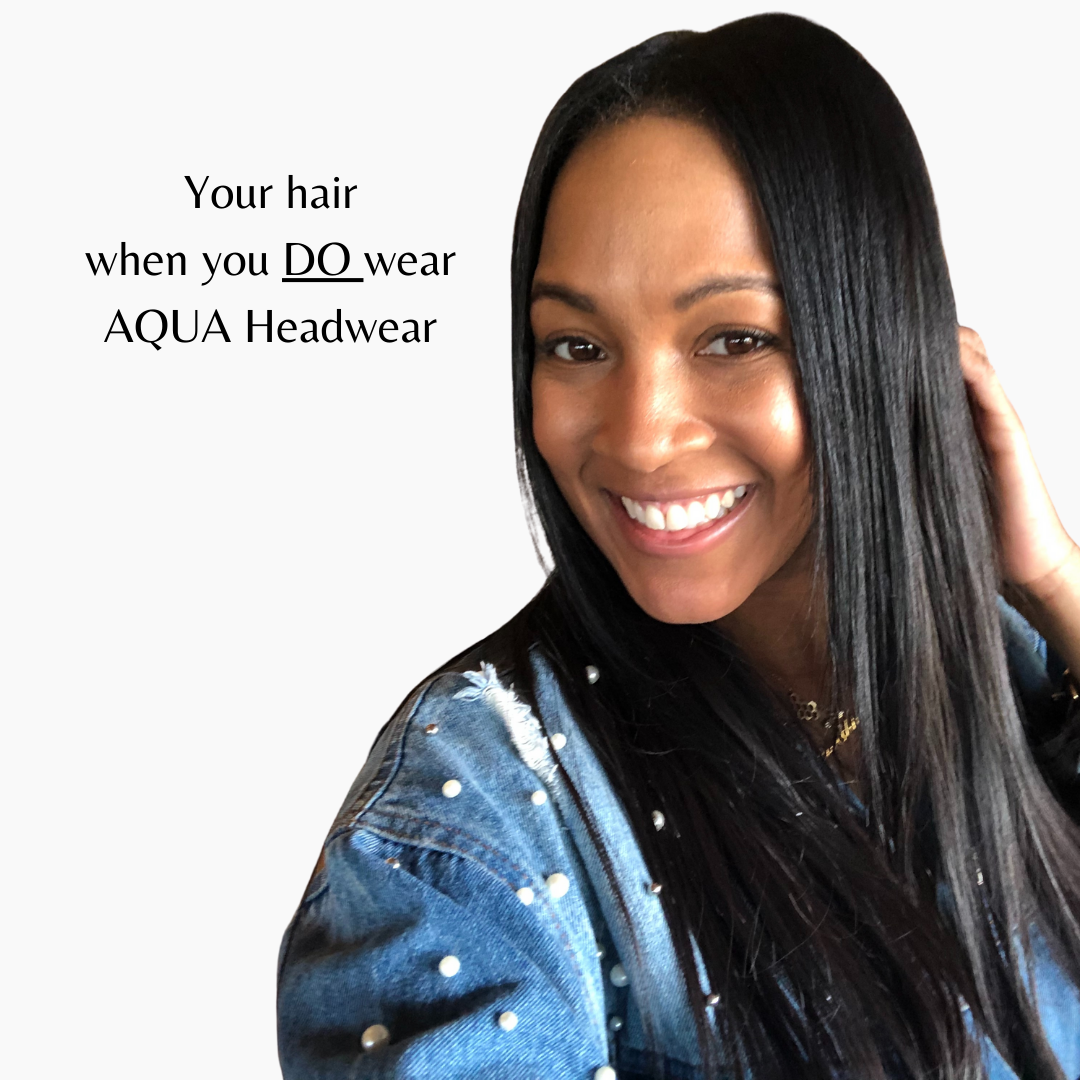 Protect your Hair in style
AQUA Headwear has so many uses
Get your money's worth! Why buy multiple products when one does the job of many?
THE COLLECTION
Which style is right for you?
CLASSIC LUXURY
Luxe Banded
This is for the AQUA girl who needs a larger turban with some stretch. The "Classic" style sets it apart & fits those who feel they have "larger heads" or wearmore voluminous hair styles. Also great for thick hair, curly girls, shoulder length braids, silk press, shoulder length locs, weaves or wigs.
The magic is in the fabric
Let your scalp breathe
Unlike other companies, there isn't an ounce of plastic, latex or silicone in our headwear.
High Quality Waterproof Fabric + Expert Handcrafting

Soft
Won't damage your hair. Wear comfortably all day!

Breathable
NO plastic, latex or silicone. Allows your scalp to breathe!

Stretchy
4-way stretch. Fits a variety of head sizes & hairstyles!

Fits in your purse
Stay ready & take AQUA Headwear anywhere!
Testimonials
Check out what people are saying about us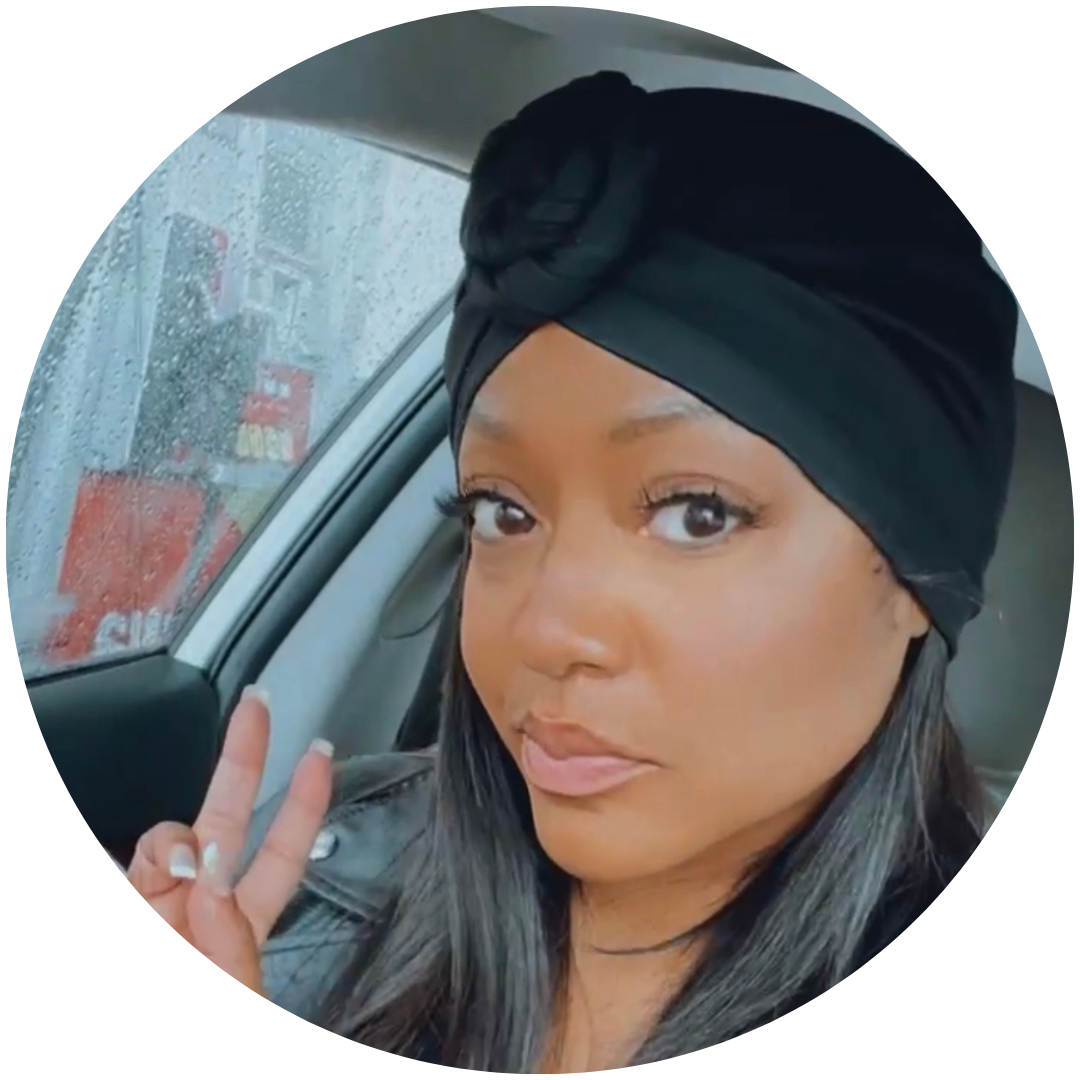 "

Trying to get a toddler into a car seat and hold an umbrella is nearly impossible. I LOVE the functionality of the turban because I can just drop it on and arrive to work looking the same way as when I left the house.

"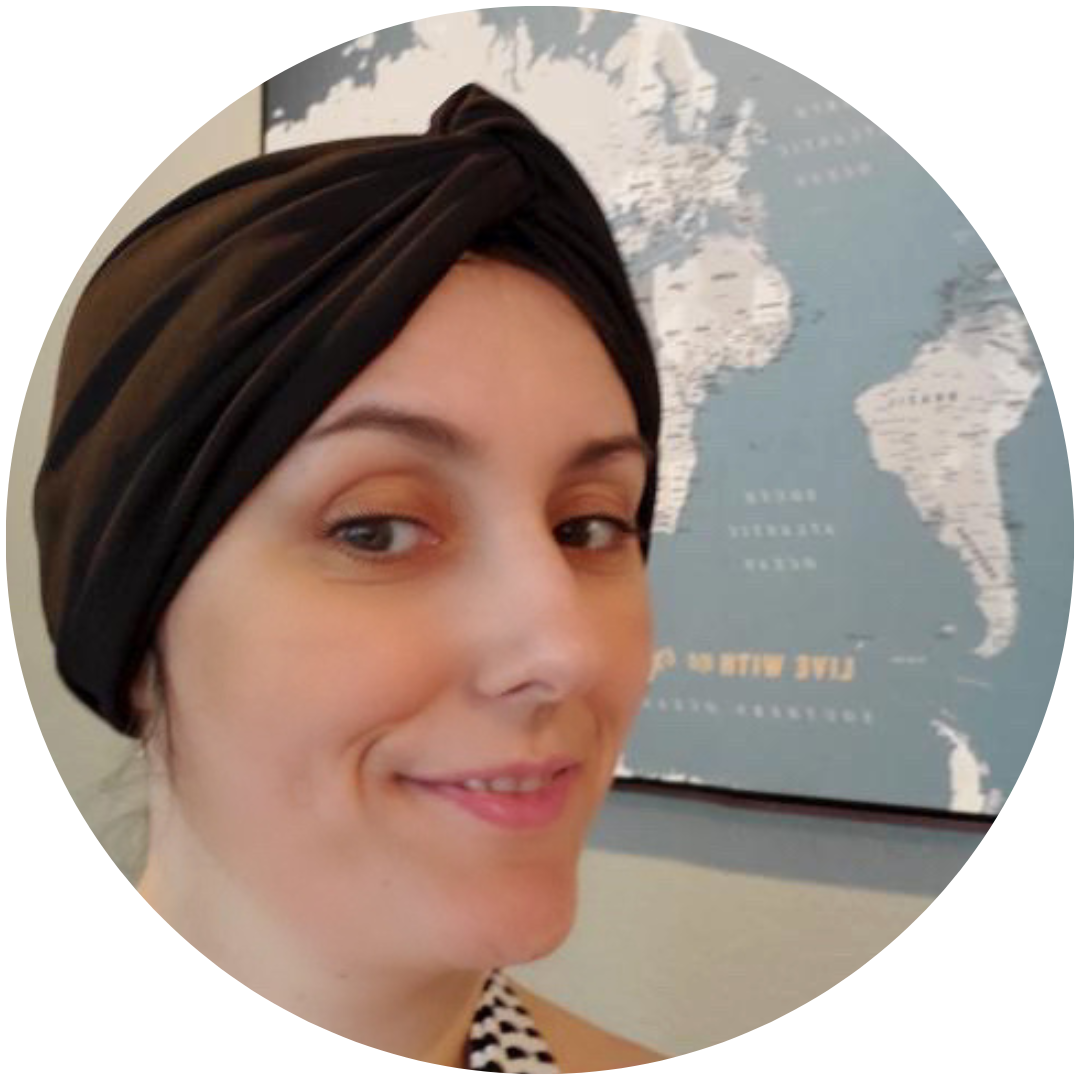 "

This turban literally saved my hair as I was going from the pool to the shower without needing to wash my colored hair daily! I can take on the world, one pool and perfect hair at a time.

"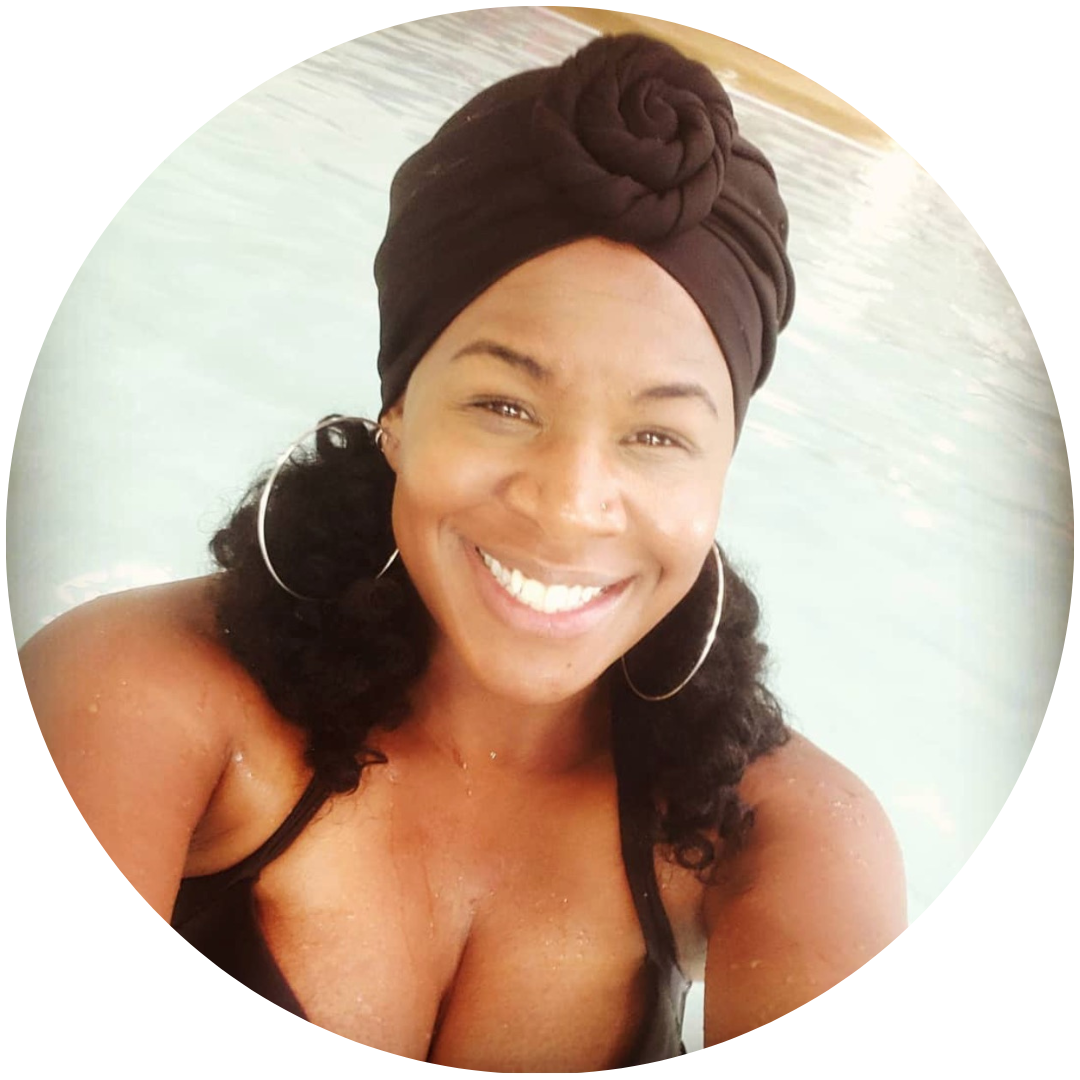 "

This BEAUTIFUL waterproof headwear was great at ONLY getting the fake part of my protective style wet. I was a bit skeptical at first but now I'M IMPRESSED! I even went on a few waterslides with no issues!

"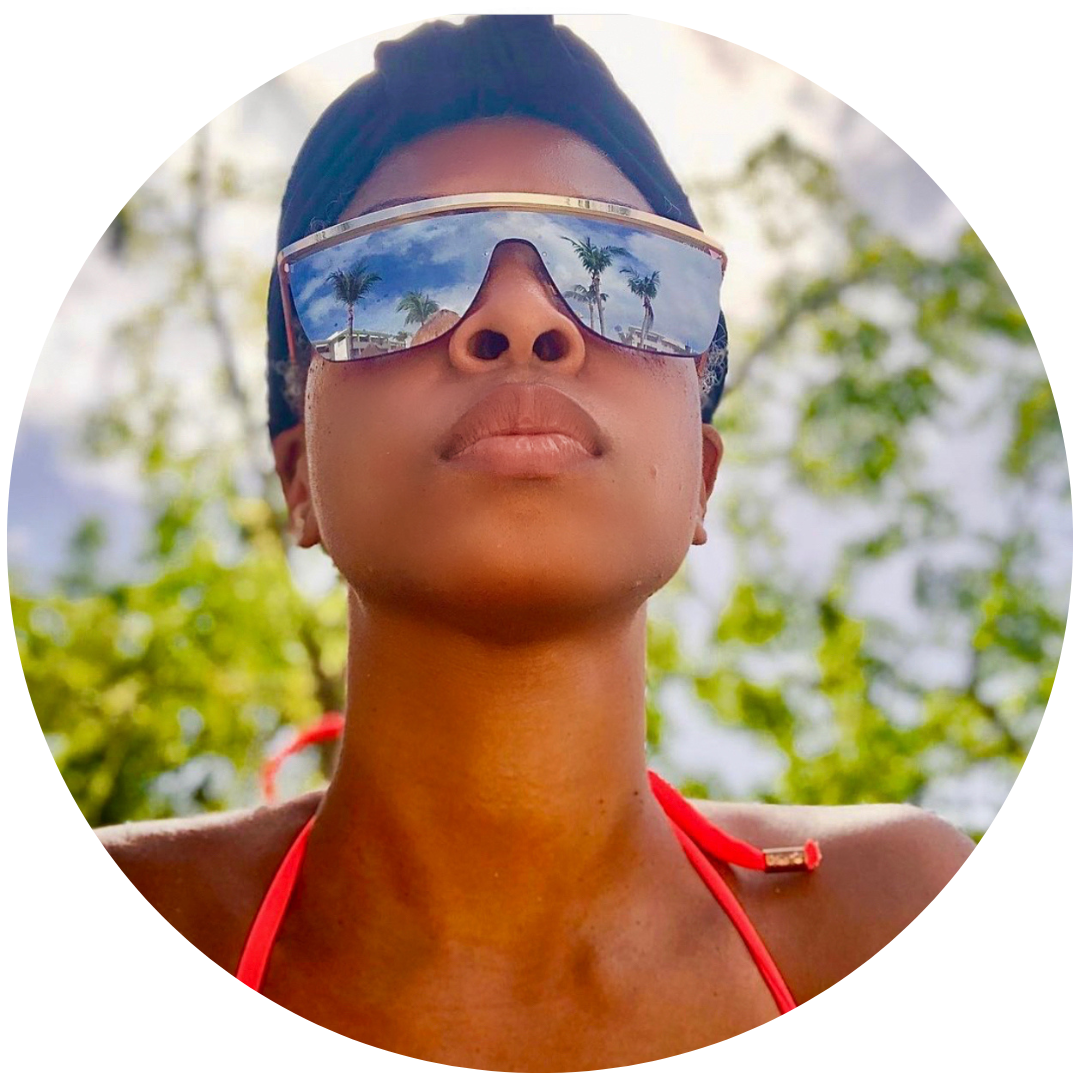 "

I wore it recently on vacation as my kids swam, splashed and jumped in the pool and it kept my hair nice and dry! I also used it as a cap to deep condition my daughter's hair. It kept the moisture in and worked perfectly.

"
Easy Returns
14 day no hassle returns or exchanges
Get in touch
Have questions?
Get in touch with us via:
Site chat: screen bottom
Email: hello@aquaheadwear.com
Phone: (9am - 5pm EST): (267) 277-2134
Meet our Founder and CEO
Khadijah Robinson
Hi! I'm Khadijah Robinson Rice, owner of the Kay & Kay Group and inventor of AQUA Waterproof Headwear. I, like most of you, enjoy wearing my hair in various hairstyles (natural, extensions, braids, you name it, I've tried it), which means I spend a great deal of time, effort and money to maintain those hairstyles. Of course, I want to protect my investment! I'm sure you can relate. 10 years ago, I began discussing and researching waterproof yet fashionable headwear and couldn't find anything that was TOTALLY WATERPROOF, STYLISH, BREATHABLE, SOFT, STRETCHY & COMPACT. Trust me, I purchased and tried just about everything on the market! It was then that I KNEW I had to invent my own. I know you will LOVE AQUA Waterproof Headwear! We've got you covered.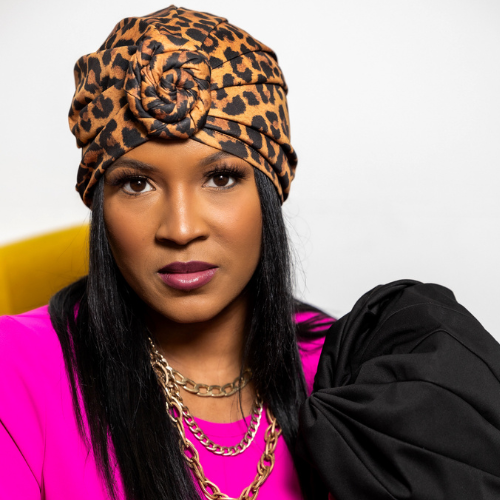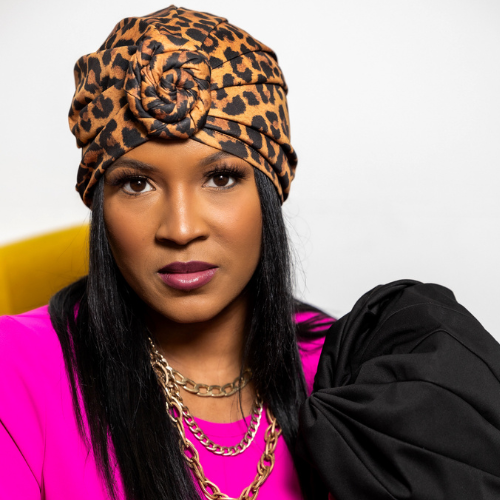 FAQs
Can it be used as a swim cap?

Our products are 100% waterproof! The fabric has undergone extensive testing and we've personally worn our turbans and headwraps in various conditions. With that said, because our products are one size fits all and made to fit comfortably for extended wear, they were not designed to fit tightly. This is why we don't recommend use for deep water swimming or full submersion of your head in water.  It may come off underwater. However, let's say you are on vacation and a HUGE wave crashes onto your head, or you get caught in torrential downpours and you don't have or don't want to use an umbrella, your hair will stay dry!
Are your products available in different sizes?

Currently, our products are one size fits all. Since our fabric is so soft and stretchy, it bends to fit just about every head size and hairstyle. We've tried the AQUA Turban on various head sizes, shapes & hair volumes and found that one size fits all is perfect in the vast majority of cases. If you're still concerned, try the AQUA Wrap as its "create your own" design offers added flexibility and can be manipulated into various styles to fit your mood and need.
How soon will my order leave your warehouse?

Packages leave our warehouse within 1 to 3 business days from date of purchase, but PLEASE NOTE the US Post Office is experiencing shipping delays nationwide. It may take longer than usual for you to receive your package. Please be patient & keep your tracking information handy. Feel free to contact us if you have any questions (hello@aquaheadwear.com). Delivery time is based on location. Once orders have shipped, they cannot be changed.

We ship to:

All 50 states & U.S., Washington, DC & U.S. territories
Washington, DC
U.S. P.O. Boxes, as long as you have a physical address associated with your P.O. Box to accept packages. EXAMPLE Jane Jones, 1400 Apple Street,  #123 (This is usually your PO BOX #), Pretend Lane, PA 12345
All orders (standard, expedited and overnight) will be shipped and delivered by the Unites States Post Office (USPS). 
What's your refund policy?

Returns & Exchanges

In the event you do not LOVE your AQUA Waterproof Headwear, we'll gladly accept merchandise for return or exchange, as long as it:

Is in new condition (never been worn and in original condition)
Is accompanied by the original invoice/confirmation email
Is returned within 14 days of original purchase.

Please follow the return instructions below:

1. Place the item(s) in the original packaging and place and seal it in the AQUA shipping bag or any shipping bag/box of your choice.

Mail to:

Kay & Kay Group, LLC

ATTN: Returns

P.O. BOX #66

Spencerville, MD 20868

*The return shipping fee is paid by you. Please use the United States Postal Service (USPS) and select a shipping service that comes with tracking.

2. Email returns@aquaheadwear.com to notify us of the return. Include the following information:

Your name and order number
The item(s) being returned and the reason
The USPS tracking number.

3. Once your package is received, it will be inspected and if approved, you will receive a refund to the original form of payment. Please note, it will take at least 7-10 business days to fully process refund.  

***We are not liable for lost packages. However, we will work with you and the delivery company in any way we can. 

***Refund does not include the original shipping cost, if applicable, only the cost of the product(s)

***Please note: Refunds can take up to 4 weeks to fully process on some orders.

Damaged or defective items:

In the case of items damaged during shipment or within 14 days of purchase, please email returns@aquaheadwear.com, with the following information:

Detailed explanation of defect/damaged area
Picture of defect/damaged area

We will work with you to replace your item as fast as we can and send it to you at no charge. Please return the damaged/defective item along with the invoice/receipt you received via email that includes your full name and order number. A free shipping label will be provided for you.

Gifts 
In the event you receive a damaged or defective item as a gift, if the item was marked as a gift when purchased and shipped directly to you, you'll receive a gift credit for the value of your return. Once the returned item is received, we will email you a gift code to be used on our site for a future purchase.

If the item wasn't marked as a gift when purchased, or the gift giver had the order shipped to themselves to give to you later, we will send a refund to the gift giver and they will find out about your return. 
Where is it made?

AQUA Waterproof Headwear is handmade in the US by a small, minority-woman owned business.